Becoming the Only University in the Indobuildtech Expo Exhibition, UPH Also Provided a Talk Show
.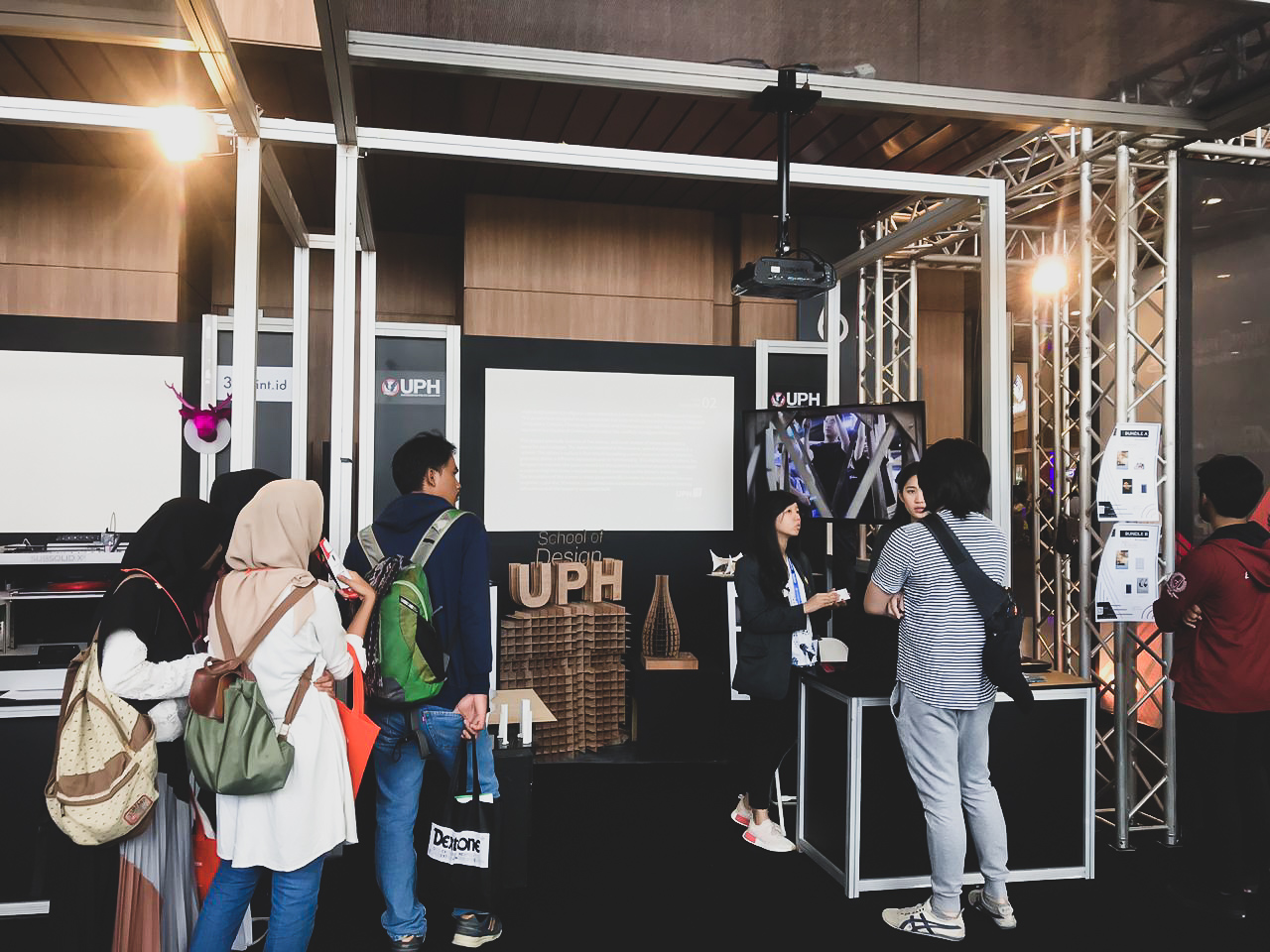 To succeed the IndoBuildTech Expo 2019 which carries the theme "Establishing Architecture 4.0", UPH Architecture Department was honored to participate and get a special area of ​​Architecture 4.0 Zone at this exhibition. UPH is the only university that has the opportunity to educate people through exhibition in the big event which took place on March 20-24, 2019, in hall 5-10 of Indonesia Convention Exhibition (ICE) BSD City. Through this exhibition UPH Architecture had the opportunity to showcase the latest technological features such as Virtual Reality, 3D Printing, and Rhino Modeling.
The IndoBuildTech Expo 2019 itself was presented as a response to support for the government which further solidifies the preparation of Human Resources development in response to the 4.0 Industrial Revolution relating to Artificial Intelligent, Big Data, Internet of Things, Robotic, and Cloud Computing. This was conveyed by President Joko Widodo in his vision to face an industrial process that moves quickly and full of dynamics, especially in the construction service industry.
This exhibition, held by PT Debindo-ITE, highlighted innovative solutions and displays the latest advances in the building industry and digital technology in the field of architecture. For this reason, besides getting the opportunity to be involved in the exhibition, the UPH Architecture Department was also trusted to give a talk show.
Related to this exhibition Jacky Thiodore, the Lecturer of UPH Architecture Study Program and the Chairperson, explained that UPH Architecture had the opportunity to provide public education related to the fields of Architecture and trends that existed through this exhibition.
"UPH Architecture shows the theme "Digital Technology as Architectural Design Catalyst" by displaying 5 subtopics of Design Technology, namely: 1) Digital Fabrication; 2) Exploration Form; 3) Building Information Modeling; 4) Virtual Reality; 5) Architectural Design Simulation. In this exhibition, UPH Architecture exhibits 6 works originating from compulsory subjects such as the Architecture Design Studio, Computer Simulation, elective courses such as Architecture in the Digital Age, and special interest workshops," Jacky explained.
In addition to being Chairperson, Jacky also spoke on the talk show 'UPH-Architecture Design Talks.' In this talk show UPH brought the title "Responsive Architecture."
"This is motivated by our response to industry 4.0 with the following key words: Big data, internet of things, Artificial Intelligence, Robotic, cloud computing. Architecture itself is a science that is always related to technology, especially in building factors and building performance," Jacky explained.
Through this talk show that took the theme "Digital Technology as Architectural Design Catalyst", Jacky also explained that the key to simple architecture is to respond to information: how information is transformed into an architectural concept. He also continued with the discussion of 4 types of responsive architecture that adapted the changing dynamics of information, including his graduate thesis project at Bartlett entitled "Dustopia".
Furthermore, Jacky also added that the position of UPH Architecture continued to strive to be in the forefront in exploring the use of technology and digital media for architecture.
"Being ahead in the exploration of technology and digital media is a result of the curiosity of lecturers and students. This exploration is certainly not done only through curriculum activities such as the Architectural Design Studio, Computer Simulation, but also in other activities such as workshop. With involvement in all activities at UPH, I see the integration of technology in the UPH Architecture curriculum and its expansion in the form of formal and informal activities," Jacky added.
Jacky acknowledged that through the Talk Show, which was attended by 75 people, from the architecture industry, students, and UPH alumnus, he hoped to be able to introduce the use of technology in helping architectural design with various examples of its application in UPH architecture and in professional practice. Besides that, it's being a discourse thrown to us about what the future of architecture can be like, if technology is as advanced as what the person has done in a research and professional environment.
In addition to national events such as the IndoBuildTech Expo, exhibitors and visitors can interact directly to get an update about product information, introduced to new features that will lead to negotiations, product purchases, and business networks. (pl)