UPH Introduces Campus to 500 High School Students Through Social Media
.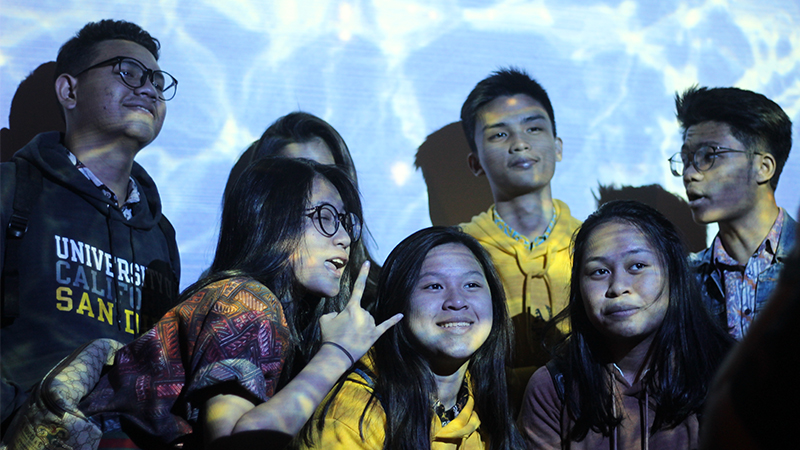 Universitas Pelita Harapan (UPH) chose social media activity to introduce the campus to high school students and to build relationships. The activity was held during Open House, which was held for 500 high school students who visited UPH Karawaci, Tangerang, on 19 July 2019. Attending students were from the 11th and 12th grade of high schools such as SMAK 4 Penabur, SMAK 6 Penabur, SMAK Kota Wista, SMAK Summarecon, and SMA Tirtamana.
The Open House at UPH Campus always presents a range of creative activities to build relationships with the students. The students were involved in workshops and there were booths, one of which is Social Media, to hype the event. This special booth was placed based on the development of social media trends that are right at the center of the millennial generations. The booth also offered Instagrammable Photo Spots. These two trends were presented at the special booth, where students can take pictures at the Instagrammable Photo Spots prepared and to share the pictures through Instagram by mentioning @UPHImpactslives. Other than Instagram, the special booth invited students to play using LINE. Students were directed to follow LINE Official UPH, choose a question through the Questions Wheel, and searching for the answer in LINE Official UPH timeline.
Through this special booth, students not only enjoyed the game, which helped them know UPH better but also made the students interested in posting photos during the duration of the Open House. Not only that, students who follow UPH's social media accounts can receive up-to-date information from UPH easily and quickly.
Other than visiting the special booth, students were invited to tour the campus and to participate in the workshops. Eight workshops were presented and represented several study programs (Prodi). The aim is not to simply see UPH but to also experience the fun of several study programs available at UPH. The workshops are Escape Room from Electrical Engineering, Biotechnology, Food Tech Exploration by Food Technology, Sound Design Workshop from Conservatory of Music (CoM), Travel Industry Workshop from Tourism Business Management, Industrial Engineering, and Mixology Workshop from Tourism Management.
All of the fun was enjoyed by attending students. Here are their testimonies:
Kevin – Grade 12 from SMA Tirtamarta
"The workshop by Food Technology was interesting because facilitators gave clear and fun materials. This workshop was also filled with relevant games with teaching, which for me helped us understand the workshop materials in a fun way."
Fredy – Grade 11 from SMAK 6 Penabur
"In my opinion, the most interesting workshop is the one by Food Technology because it was exciting and I learned about many types of ingredients that can be mixed to produce delicious food. Other than the workshop, we were also given free ice cream."
Eunice – Grade 11 from SMAK 6 Penabur
"I am very interested in the workshop given by Tourism Management because they explained mixology, which is a technique to create drinks by mixing various ingredients. I enjoyed it and it was very fun at the Social Media booth because I can take trendy photos that are usually available at expensive places and I also posted the pictures on my social media."