YPPH and YPHP Received Financial Aid Courtesy of Lippo Malls Indonesia
.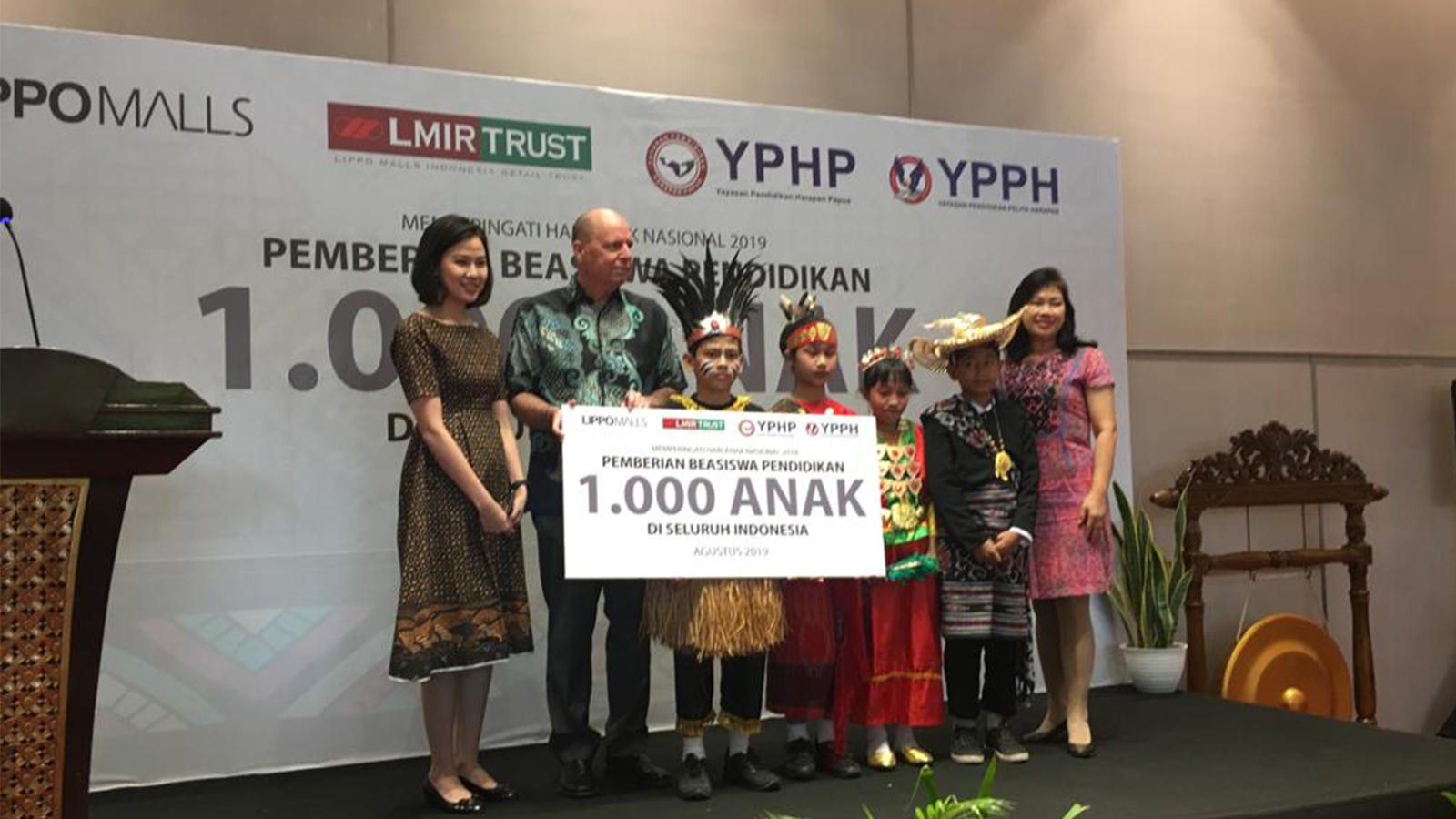 Yayasan Pendidikan Pelita Harapan (YPPH) and Yayasan Pendidikan Harapan Papua (YPHP), institutions focused on providing quality education in Indonesia, received financial aid from Lippo Malls Indonesia, which will help 1.000 children in remote areas receive a better-quality education. This financial aid is symbolically presented by Danny Crayton, Lippo Malls Indonesia Chief Marketing Officer, to Ir. Nursari Dewi Lugito, M.Pd., YPPH's Outreach Director, and witnessed by Stephanie Riady, B.A., M.Ed., YPPH's Executive Committee, on August 6, 2019, at Lippo Mall Kemang, Jakarta.
The total amount of financial aid granted reaches almost 4 billion rupiah and is given in the hopes that it can help improve the educational quality in remote areas significantly, as well as provide children in need with quality education without putting financial burdens on the families.
This is also a nod to the government's Program Indonesia Pintar (PIP) set up to standardize education across Indonesia and provide education for children of families in need in far-flung areas in Indonesia.
Danny Crayton, Chief Marketing Officer of Lippo Malls Indonesia, when inquired of the event, explained, "Lippo Malls hopes that this event is not merely done as part of our company's Corporate Social Responsibility, but also as the start of a long-lasting program that gives a tangible impact for the people of our country, especially for schoolchildren from off-the-map areas that are struggling financially."
Currently, YPPH manages the Sekolah Pelita Harapan (SPH), Sekolah Dian Harapan (SDH), Sekolah Lentera Harapan (SLH), UPH College, Hope Academy, and Universitas Pelita Harapan (UPH). These schools provide an education from the Pre-Kindergarten level, all the way through the university level, and are spread out in various locations in Indonesia. The vision of the Foundation is to present a high-quality and standardized education for all the different income groups of people in Indonesia. The Foundation can only benefit from the financial aid granted by Lippo Malls Indonesia – the aid will be distributed to students registered at YPPH's SLH schools in remote regions as well as YPHP's schools in Papua.
"On behalf of YPPH, I would like to thank Lippo Malls for helping 1.000 of our students at Sekolah Lentera Harapan stay in our schools. We will allocate the funds for the schools in Sumatera, Sulawesi, and East Nusa Tenggara, where there are no other high-quality education services available. In East Nusa Tenggara, we have a school in Rote, which is one of the poorest areas in all of Indonesia. YPPH came into regions such as this and starts a quality education facility for the people," Stephanie Riady explained, thanking Lippo Malls during the event.
Currently, YPPH is looking to reach its target school count of 10 SPHs, 100 SDHs, and 1000 SLHs spread across the Indonesian archipelago. This is done for the sole purpose of ensuring that even the most far-flung areas can enjoy a YPPH-standardized education, which is on par with the educational quality available in bigger cities. YPPH and YPHP will continue its mission of bringing about an excellent educational system for Indonesia.