UPH Inaugurates Proactive Education Co-op Zone
.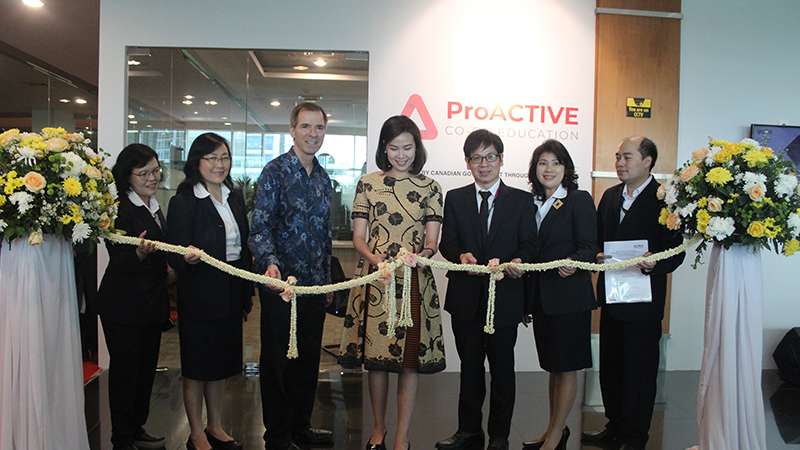 The skills of work has become part of the lecture curriculum at UPH. This learning method is supported by the presence of the ProActive Zone Co-op Education's facility, which was inaugurated on Wednesday, August 28, 2019. The symbolic inauguration was with ribbon cutting by Stephanie Riady, Vice President for Marketing and UPH's External Cooperation & Business Development, witnessed by faculty leaders and UPH partner companies' representatives, including PT Asuransi Adira Dinamika, PT Nutrifood and PT CIMB Niaga tbk.
Before the inauguration, a Co-Operative (Co-Op) education program was held by the Chair of the UPH Mathematics Study Program, Kie Ivanky Saputra, Ph.D. and READI Field Project Director, William Duggan. The MOU Signing in collaboration with the UPH Career Center was continued with companies supporting the UPH Co-Op Education program.
The ProActive Zone Co-Op Education facility is located on the 4th floor of C building, UPH Lippo Village campus, Karawaci, Tangerang. This room provides private space for interview for companies who want to conduct on campus recruitment, a meeting room for conducting group recruitment or giving company profile presentations, co-working space for companies that are visiting UPH, and software tools that provide digital platforms for bring together students participating in the Co-Op education program with UPH partner companies.
As it implies in the name (the Proactive Zone, Professional and Academic Cooperation to build an innovative and valueable learning experience), it is designed as a bridge between the university and industry to facilitate students of getting an exposure about the world of professionals while still in college. Through this program, students also have the opportunity to expand their relationship and networking with professionals and company leaders.
"This Proactive Zone is a miniature of the Co-Op education building in Waterloo University Canada, which becomes a reference in designing the UPH co-op system. The idea of ​​this program was born from a visit in 2017 and 2018 by UPH team and several companies and the Indonesian government, to Waterloo University and several large companies in Toronto to see the co-op system that is already running in Canada," explained Dr. Helena Margaretha, coordinator of the Actuarial Specialization and Business Mathematics of UPH Actuarial & Applied Mathematics Study Program.
Welcoming this, William James Duggan represented READI as a partner of UPH in the program, appreciating UPH's courage in adopting this program.
"UPH is a university that is ready to take risks, because this is a new approach in Indonesia and requires the application of a semester system that is different from the general level. I see UPH has a very good reputation for all study programs, and for the Faculty of Science and Technology, especially Mathematics study programs, it is already strong and has excellent graduates. This is recognized by industry partners who are satisfied with their performance. UPH universities are progressive, practical, and able to develop students' soft skills needed by industry," said William.