Parents Gathering UPH Festival 2019 Involves Parents in Learning Process
.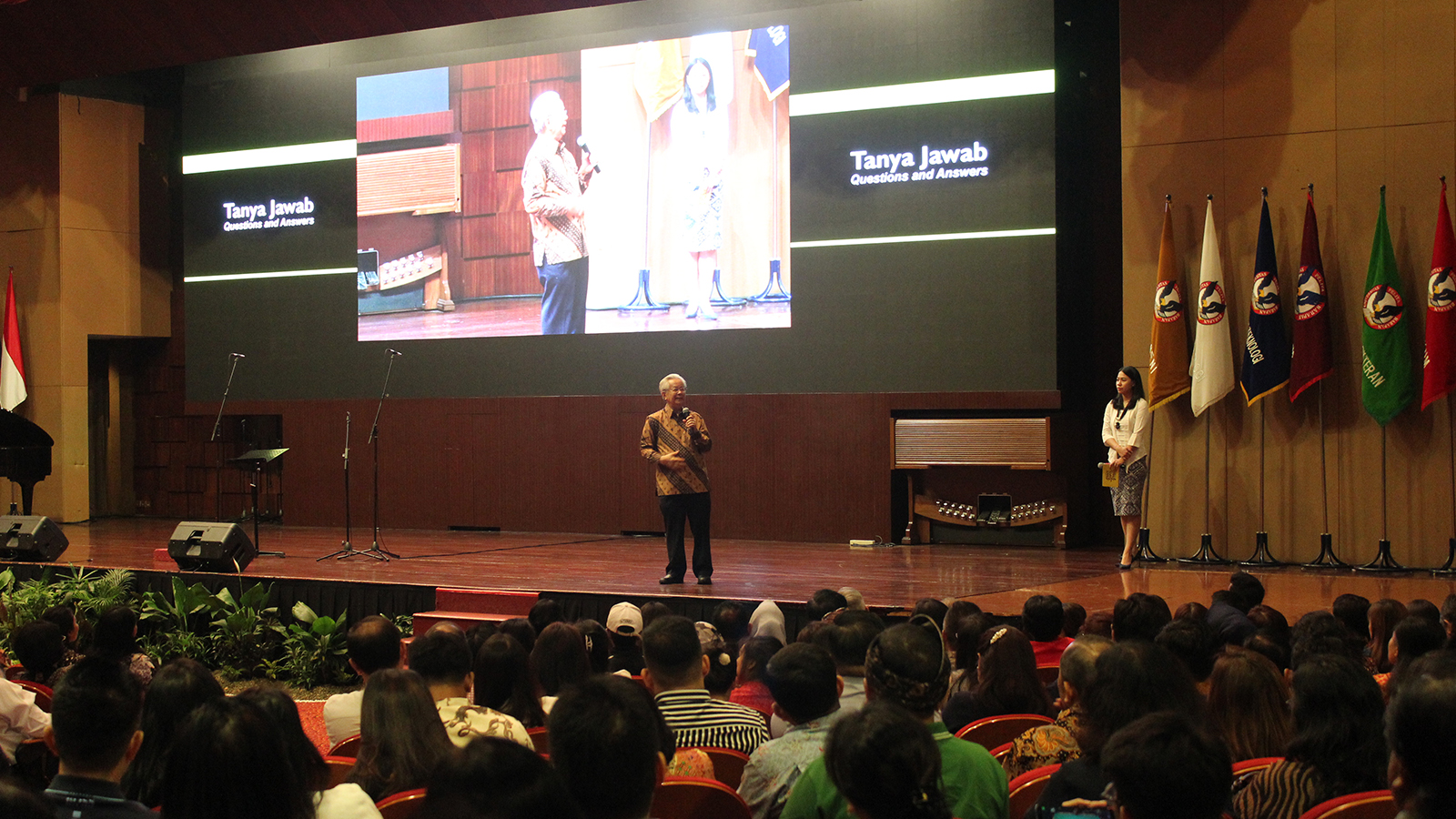 In addition to welcoming new 2019 students with a range of interesting events, UPH welcomed the parents who have entrusted their sons' and daughters' education to UPH through Parents Gathering that was held on the fourth day of UPH Festival, which was on 17 August 2019, at the Grand Chapel, UPH Lippo Village campus, Tangerang.
UPH Chancellor, Dr. (Hon) Jonathan L. Parapak, M.Eng.Sc., warmly welcomed thousands of parents who arrived from different regions of Indonesia. In his welcoming speech, the Chancellor explained the importance in every student activity at UPH that was planned according to the 4Cs: Critical thinking, Creativity, Communication, and Collaboration. The Chancellor emphasized the importance of the 4Cs that is integrated into Indonesian syllabus.
Critical thinking is the ability to reach a solution and solving a problem with a critical mind. Creativity, on the other hand, means the ability to develop a new concept and idea that will produce a new product. Communication is training in effective communication. Collaboration is how to work together productively while appreciating different perspectives.
The Chancellor continued, "With these 4Cs, we hope that students will think critically, train their creativity, being competent in communication and to have integrity. In addition, UPH strives to prepare holistic and transformative learning that will not only push the students academically but also spiritually."
Parents were also invited to be active in the learning process through communication and interaction with their child. It is expected that the explanation will build synergy between UPH and the parents in their child's four-year learning process.
The following are impressions from parents of UPH 2019 Incoming Students
Patrico Wijayanto, father of Kinara Verga (from Communications 2019) revealed that the message delivered by the Chancellor and his deans at Parents Gathering about the quality of the instructors made him absolutely sure that he placed his child at the right place.
Patrico explained, "I don't doubt UPH's quality. I entrust my child here because I believe that UPH is one of the best private universities, especially in its facilities and infrastructure. They are not only good in appearances but also have instructors with a tested track record, as introduced by the Chancellor. We are happy to see UPH's vision which shows that UPH is not only focused academically but also spiritually."
Moreover, Patrico continued by saying that he is happy UPH provides many student activity units (UKM) because he considers them to be training fields for his child.
The same thing was delivered by Ong Susi, mother of Luis Alexander (Visual Communication Design 2019).
"I entrust my child to continue his studies here because I know about the quality of instructors available. Parents Gathering was also an opportunity for me to know more about UPH and to become surer in my choice."
Parents Gathering not only introduced the learning quality at UPH but also showed the quality of the environment.
Bonaria Magdalena, the mother of Helena Chalistas (Visual Communication Design 2019), said, "The environment at UPH is beautiful and neat, mirroring quality at UPH like we parents hope. I hope that the beauty of this campus is maintained because it will support the university atmosphere."
Parents Gathering also gave the opportunity for parents to ask questions through the question and answer session with the Chancellor. The opportunity was received enthusiastically by the parents, who raised questions and answered questions asked by the moderator to receive prizes from sponsors.
The event was closed by giving the door prize to the parent who answered all the UPH-related questions. The door prize giving was sponsored by Cinemaxx Theater and Lippo Life.