UPH Introduces UPH Eagles to the Public through International Basketball Exhibition
.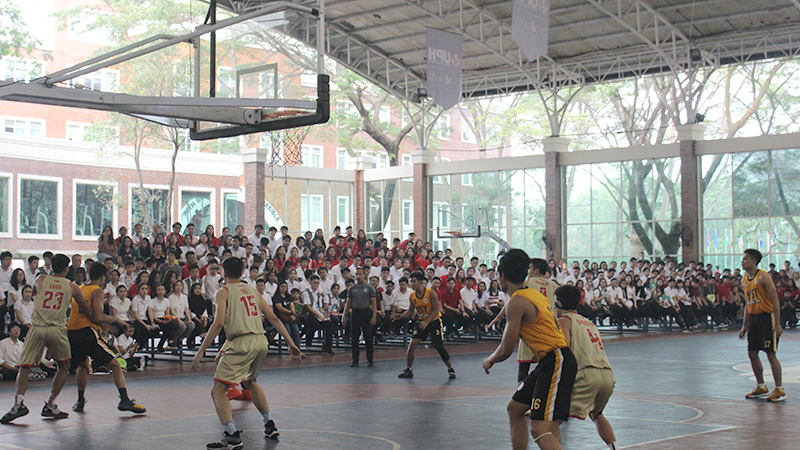 International Basketball Exhibition pitted the UPH Eagles team and St. Thomas University's Tigers to liven up the closing of UPH Festival 2019 on 17 August 2019, from noon to 2:30 p.m. at UPH Lippo Village Karawaci Basketball Court.
As a global campus, this event revealed the relationships UPH have with countries around Southeast Asia. Moreover, Andromeda Manuputty, the External Sports Program Coordinator of UPH Sports, explained that this event is aimed to introduce UPH Eagles to the public, new students, and to the international world.
Andro said, "This event is expected to represent the Eagles, who will soon represent Indonesia in their basketball match at Taiwan."
UPH's hopes to ignite the team spirit is felt by the members of the Eagles. This feeling was resonated by Muhammad Arighi, a UPH Eagles member and student of Food Technology UPH 2017.
He said, "Through this international exhibition, we are fired up because the Eagles are introduced as a team capable of competing internationally."
The event also revealed the members' efforts in training themselves to represent Indonesia in their upcoming match in Taiwan.
Arighi added, "We are glad because, through this event, we can show our preparation and our training to represent Indonesia in Taiwan later."
The excitement was not felt only by the Eagles. The Tigers were also glad to be welcomed as a special guest of the event.
Ferdinand Asuncion Jr., a member of Tigers, said, "I am glad because this is the first time St. Thomas University competes against UPH Eagles."
Albert Bordeos and Alvin Garing, members of Tigers, admitted that this is a good competition for them because they can learn many things here.
Alvin continued, "This is a fun experience for us because UPH gave us the chance to show our talents at Indonesia."
The event entertained the public in addition to becoming the pride of Eagles' and Tigers' history.
Pameyla Cika, a student audience from Teacher College UPH 2018, said, "The match was fun and felt special because they are competing with a foreign team."
The arrival of the Tigers entertained the students of International Teachers College UPH, who came from different countries.
Lidya Agatha, a student of International Teachers College UPH 2018, said, "I am happy to see UPH compete with a team from the Philippines. My friends from the Philippines in my international class admitted that they were happy because they can watch a team from their country invited to compete at UPH."
International Basketball Exhibition became one of the closing events of UPH Festival 2019, which revealed UPH's vision to the new students. This could only be done by the tenacious team who serve God through their talents.
Andro said, "In any event, UPH Eagles strives to represent our vision, that is true knowledge, faith in Christ, and Godly character."