Silvia Ervina, a student of Interior Design UPH, became the Gold Winner of the 2018-2019 AYDA
.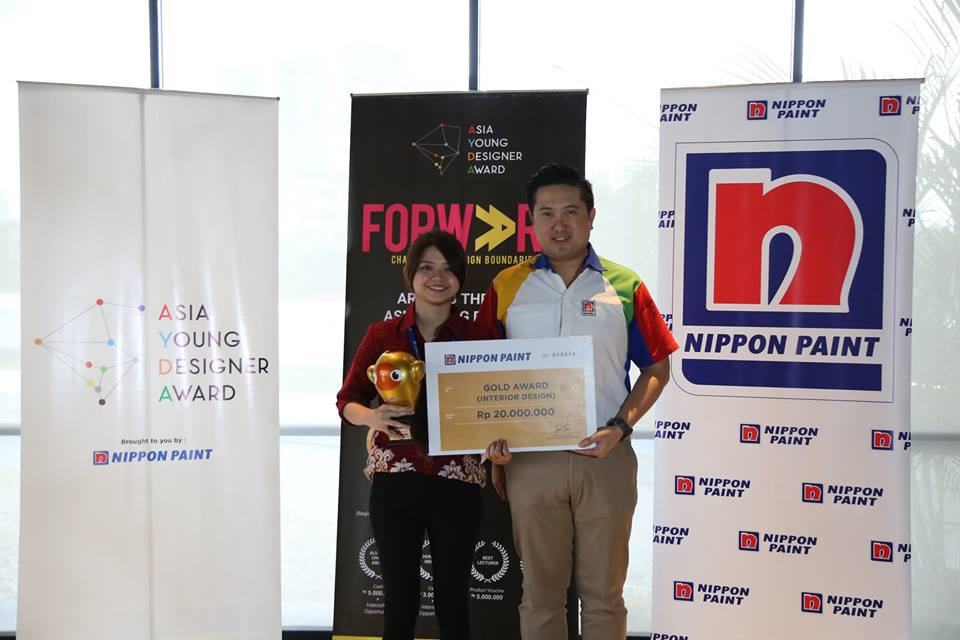 An achievement was once again obtained by a student of the Interior Design program of Universitas Pelita Harapan. Silvia Ervina has successfully became a Gold Winner of the 2018-2019 Asian Young Designer Award (AYDA), and this achievement has brought her to become the representation of Indonesia for the 2018-2019 Asia Young Designer Summit in Singapore.
Silvia Ervina, as the winner of the Interior Design category, and Daniel, the winner for Architecture category from Universitas Kristen Petra Surabaya in the AYDA will be competing with other participants from 14 countries to obtain the Asia's Young Designer of the Year award as well as a scholarship in Harvard University Graduate School of Design (GSD), in a form of Summer School Program in Harvard University Graduate School of Design (GSD) in Boston, Massachusetts, United States.
Ervina was able to achieve a successful outcome by choosing the Lawang Sewu building in Semarang as the project she will be working on for the 2018-2019 AYDA Award; she will also use this work as her final project for her final years in School of Design (SoD) UPH. Ervina chose this particular building because of her desire and empathy for this building because for a very long time, this building has only been perceived as a haunted place.
"Lawang Sewu is interesting, but people only know the horror aspect of the building. Although in reality, Lawang Sewu is a train museum. Thus, I want to create a work of design that aims to spike people's interest to visit the building to have an emotional experience from the historical background and aspects of the building. This also relates back to the Dutch and Japan's era," Ervina then explained.
On Ervina's work, Martin, the Dean of SoD UPH was really supportive about the idea of the project because it goes in accordance to the key value of the program that SoD UPH applies, which is Design Thinking; which aims to provide students with knowledge and exceptional/exemplar design study process with a main requirement where the designer must be able to emphasize with the users of their design. For Martin, Ervina has shown that her work was a product of exceptional understanding about the issue offered, and she has also shown her empathy to the users of her design.
"As the Dean of SoD, I am very proud of Ervina's achievement, it shows that UPH's Interior Design program can compete with the Interior Design programs of other universities, both private and national ones. Aside from that, by joining this kind of competition, the students will be able to train and grow their confidence as well as their network," said Martin.
Along with Ervina's achievement, Agnes S. Azarja, one of UPH's Interior Design lecturer who was also Ervina's supervisor, also got the award for Best Lecturer during the competition.
This achievement was obtained from a long assessment process by the panelists. Referring to the 2018-2019 AYDA theme, "Forward-Challenging Design Boundaries", students have to create a design plan with a concept that may encourage progressive growth and development, and give a positive impact to the environment, society, as well as the next generation.
For the CEO of Decorative Paints Nippon Paint Indonesia, Jon Tan, the 7th AYDA is not just a competition, but it is also a form of a solid synergy.
"This time, we are competing alongside with some of the best universities in Indonesia and we also choose competition as the theme for students' assignment. With the "Nurturing through Mentoring" concept, AYDA has established itself as more than just a competition, but also a place for students to be mentored and taught by professionals through the coaching session, and also through the networking that can be created through this event. Hopefully, this will prepare them for the professional world.
Asia Young Designer Award (AYDA) itself was launched for the first time on 2012 in Indonesia, with the goal to motivate students to become innovative professional and to compete in the international level. From that point on, representatives have been chosen to represent Indonesia in the Asia Young Designer Summit competition in Singapore.
Jon Tan added that every year, AYDA will keep developing to become a better medium for holistic learning, and they will collaborate with and involve even more partners. Especially for students who are planning to take part in and develop the creative industry in Indonesia.