UPH – Samford University Shares Cultural Diversity through a Musical Theatre Workshop
.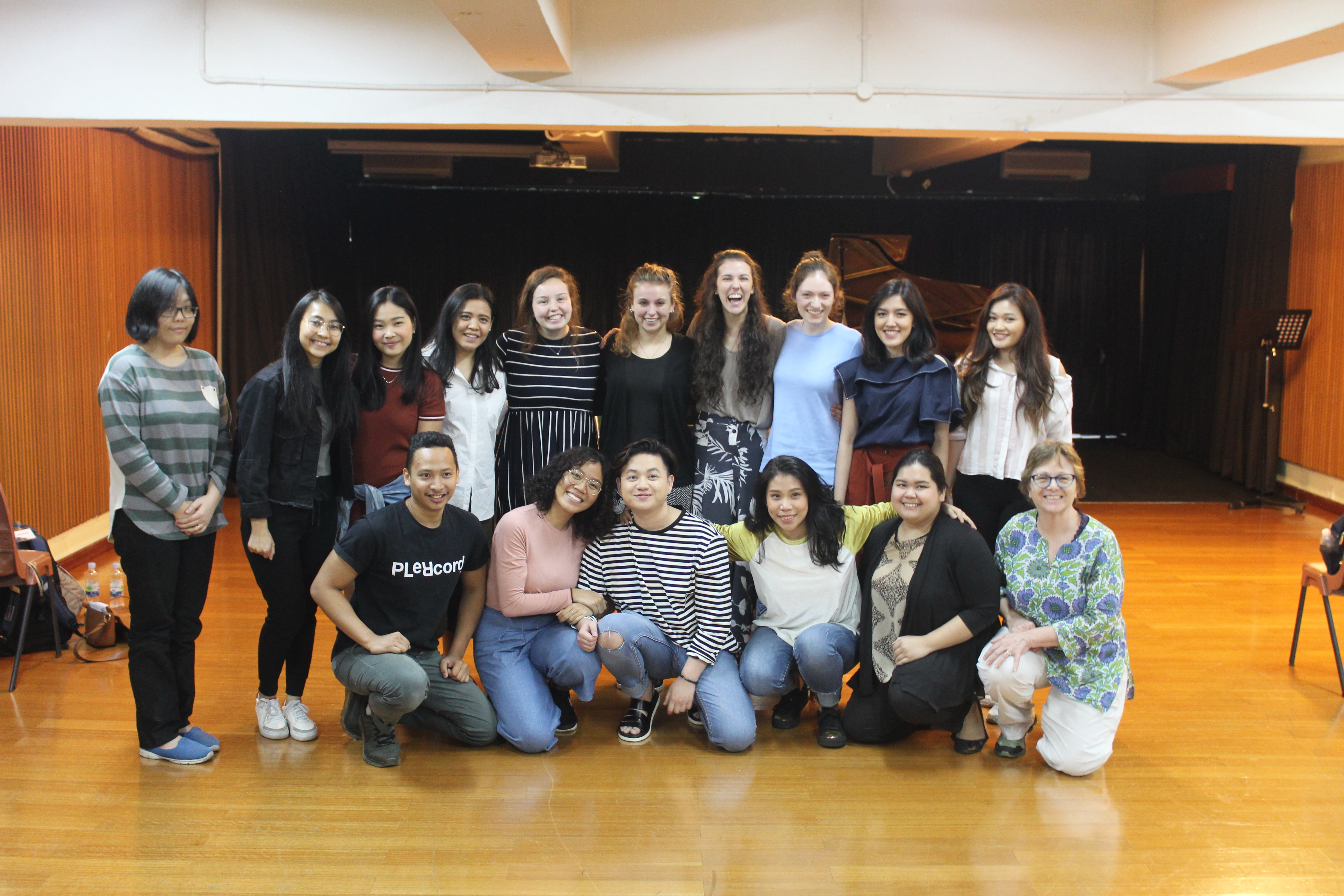 In these early days of 2019, Universitas Pelita Harapan (UPH) has yet again proven to establish quality international partnerships through a visit from Samford University School of Art on January 9, 2019. Lecturers and students came to UPH to join in the Musical Theatre Workshop held by UPH Conservatory of Music (CoM). They particularly look to learn more about the cultures of Indonesia. In addition to the visit to UPH, Samford also visited schools under the Pelita Harapan Educational Foundation (YPPH) and also several different cities: Jakarta, Bandung, and Yogyakarta.
Participating in this Musical Theater Workshop are four students (Julie Marie Cagno, Meredith Ann Revel, Emily Candler, and Katie Veronica Beazley) and two lecturers (Dr. Jeanne Sue Westmoreland as Group Leader and Prof. Laura Schreck Byland). During the event, they shared stories, knowledge, and also performed a theatre scene from 'The Jungle Book' directed by Prof. Laura Byland to an audience of about 15 CoM UPH students.
This is the second time Samford has stepped foot on UPH. In 2018, a team from Samford University enjoyed the cultural diversity of Indonesia through traditional dances performed by UPH students. Katie Veronica Beazley, who comes to UPH in both 2018 and 2019, admitted that UPH never fails to leave an impression on her.
"I'm really fascinated by the theatre musical workshop. I was able to see that the art of theatre makes me able to interact with UPH students even though I can't speak Bahasa Indonesia. I interacted with them through my body, like when I used the Body Movement technique. It's really amazing to know that other people get my message only through moving my body and without any words whatsoever. Also, I think my new friends in UPH really have learned musical theatre in the right way," declared Katie.
Laura Schreck Byland, Faculty Staff School of the Arts, Theatre for Youth, revealed that this visit aims for more than just new experience for their students. This visit is a chance to start a partnership and broaden their community.
"This visit is indeed to build a communal relationship between UPH and Samford University, and also to bridge the fairly large culture gap between the two universities," said Laura.
She testified that through the Musical Theatre Workshop, she could see that UPH CoM lecturers and students put a very high appreciation for the art of musical theatre and that they believe that theatre can break any cultural and language barrier.
"I don't see why we can't make a theatre project with both Samford and UPH students," Laura assured. The UPH students are extremely enthusiastic about studying musical theatre – they've been familiar with a lot of good stories. If supplemented with acting classes, they will be able to learn about character development, which will really be helpful. I will be thrilled if sometime in the future there is a chance for me to direct a Samford – UPH collaboration."
Claudya Christina, a UPH CoM 2015 student, is an avid enthusiast of the world of musical theatre, and she feels really grateful for this experience.
"This experience is really special to me because I can study musical theatre from a different perspective – literally from a different part of the world. This is my first time joining a class that partners with a foreign university and that focuses on theatre. I really hope that there will be more events like this held in UPH," Claudya chirped.
In addition to the workshop, the Samford University team also performed their musical theatre piece in schools under YPPH and taught its students to make Haiku, a special type of Japanese poetry. Samford University and UPH both hope that they can grow and expand their partnership and make these visits regular events, for the sake of learning about opening up to cultural diversities. (mt)