Financial Information Provider for MSME Business Decision Making
.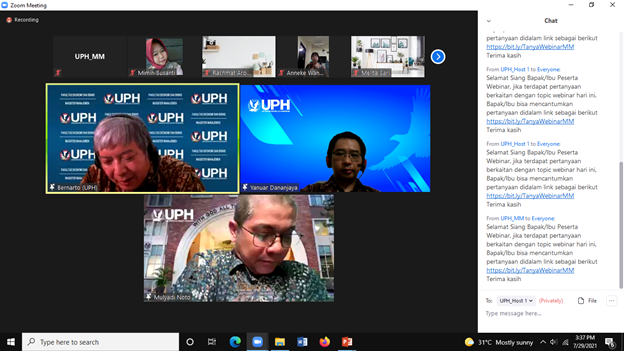 The Master of Management Study Program, Faculty of Economics and Business, Pelita Harapan University has held an online webinar "Financial Information Providers for MSME Business Decision Making" as the main topic. This program is implemented through collaboration between UPH campuses, namely UPH Lippo Village, UPH Semanggi Campus, and UPH Surabaya Campus by bringing in experts in their respective fields. The webinar will be held on July 29, 2021, at 14:00 WIB via Zoom Meeting.
This webinar presents experts in the financial sector, especially in the MSME business sector. The first speaker was a lecturer from the UPH Master of Management program at the Semanggi Jakarta campus. Dr. Mulyadi Noto Soetardjo, Ak., M.Com., CA., CPA is a Lecturer in the Accounting Study Program and focuses on financial accounting, management accounting, IFRS implementation, information systems, system analysis and design, digital accounting, and digital auditing. While the second speaker was a Lecturer from the Master of Management study program at Pelita Harapan University, Surabaya Campus, Dr. Yanuar Dananjaya, B.Sc., M.M. He focuses on finance, statistics, investment, and international finance topics. This talk show program was facilitated by Dr. Innocentius Bernarto, S.T., M.Si., M.M., M.Si as moderator and he currently serves as Head of the Master of Management Study Program since 2017 until now.
The topics discussed are very helpful in providing insight and deeper knowledge about financial data for MSMEs. Participants can directly understand important financial data in relation to the needs of MSME sustainability and the form of financial reporting required. Both speakers provided excellent explanations on how to use financial reports to assess whether an MSME is creditworthy or not. So that the participants better understand the forms of reporting that are really needed and things that can be avoided. So that the topics discussed can be applied directly to MSME owners in relation to good financial data and reports.
Each speaker explained the material for 30 minutes each and provided insight that was very useful for the participants, then the question-and-answer session was filled with various questions from students and the public through the chat forum which became an interesting discussion and interaction so that the participants seemed enthusiastic in participating in the discussion. which is implemented. This webinar is the result of good cooperation between UPH campuses. Therefore, this collaboration is expected to be able to have a positive and educative impact for academics and the public in adding a broader understanding and knowledge of the issues that are currently happening, especially on data or information that is very important for decision making for owners. MSME business. Look forward to other programs from UPH Business School in the future.