Physical Assessment as Key to Nurses' Service
.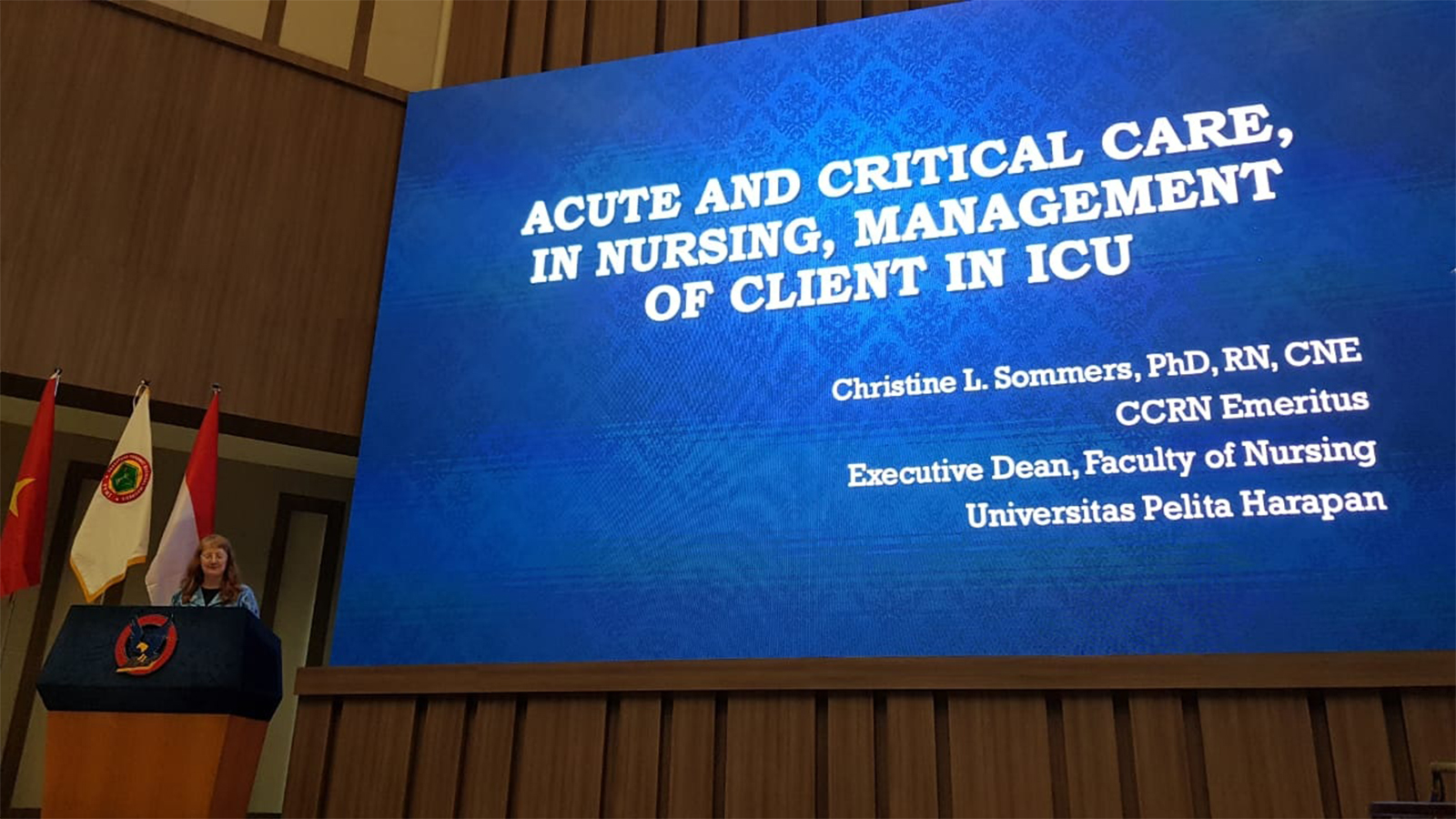 Christine L. Sommers, Ph.D., RN, CNE, CCRN Emeritus, Executive Dean of UPH Faculty of Nursing was one of the keynote speakers at the Neuroscience Nursing Seminar organized by Siloam Hospitals Lippo Village on 24 August 2019 at Gedung Baru Fakultas Kedokteran UPH Karawaci. Christine talked about Acute and Critical Care in Nursing and Management of Client in ICU and stresses the importance of physical assessment as the key factor in nurses' reaction and is the base for nurses to give their best services.
About 800 participants were attending the seminar and they came from different backgrounds, including students of Faculty of Nursing, nurses of Siloam Hospitals around Jabodetabek, professionals, and academics studying about healthcare from countries across Asia.
During her seminar, Sommers stressed the importance of correct physical assessment that must be done to the Intensive Care Unit (ICU) patients or for patients in critical condition.
Sommers said, "This is an important topic because the physical assessment is the fundamental thing nurses must understand. To be a nurse giving extraordinary service, it starts by understanding the steps of physical assessment well. By doing the correct physical assessment, a nurse can give properly handle the patients. Physical assessment includes testing of the respiratory system, circulatory system, vital organs, neurology, and the brain system."
Moreover, Sommers explained that after the physical assessment is completed, nurses must monitor the patients throughout their stay because their physical condition can change at any moment. Sommers stresses the importance of Reassess, Reassess, Reassess – meaning don't stop monitoring your patient's vitals.
At the end of the seminar, Sommers emphasized that the whole reassessment process is important in handling acute or critical conditions because it is the key to decide what course of action to take.
The seminar also presented other international speakers coming from countries across Asia such as Japan, China, Malaysia, and others. Sommers hopes that through this seminar, participants and students of FoN UPH can receive its benefits.
Sommers said, "With this seminar, we hope that participants and our students here can learn from the experiences of professional neurosurgeons and nurses from various regions in Asia, who face challenges unique to themselves. With these experiences, students can widen their knowledge and prepare them in their respective fields later on."
Through this seminar, it is hoped that the nurses' and prospective nurses' awareness can improve their service so that it will be their best and that they will receive the knowledge on how to give good services to the people as a competent and professional nurse.