UPH – Calvin College Emphasize the Importance of Christian Values in Education
.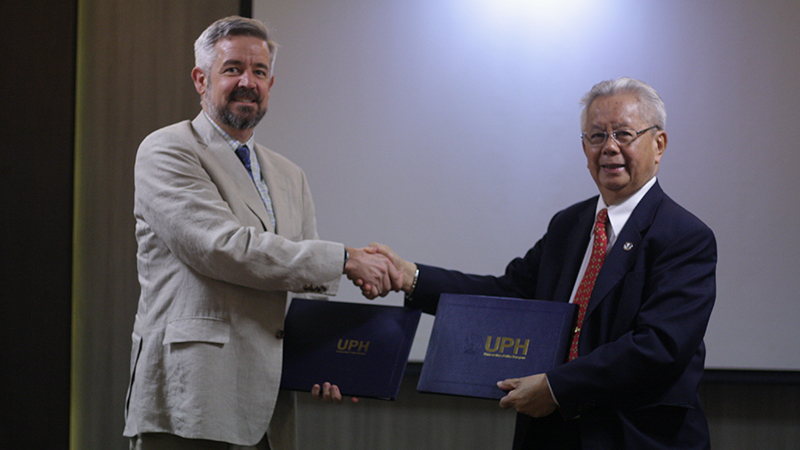 On June 25, 2019, UPH and Calvin College signed a MoU (Memorandum of Understanding), opening doors for further partnerships. The President of Calvin College, Dr. Michael K. Le Roy, also took the time to discuss the integration of Christian values in education with UPH lecturers. Having been a college for 143 years, Calvin's experience shaping the young generation might not be comparable to that of UPH – it is, until Dr. Roy mentioned the fact that with the dynamics of Indonesia, UPH might in fact have developed much faster. This is why Calvin chooses UPH as a reliable partner in their mission of promoting a quality Christian education around the world.
"We always try to integrate Christian values in everything that we teach in class. However, we are only used to do this in the American / Canadian Christian setting. We realize that if we want to do this for a long time, we should play the global scene. Hence, we need partners all around the world – those that can expand our horizons. This is where UPH comes in," Dr. Roy explained.
Dr. Roy explained to UPH lecturers the three challenges Calvin faced in integrating the Christian faith into learning: modernism, liberal individualism, and postmodernism. Modernism puts humans in the center of reality – this instils the understanding that what one believes is a private matter, not a communal one. Professors cannot discuss religious values in class, because discussing these means crossing one's personal boundaries. Postmodernism teaches that reality is socially constructed. Hence, religion is also socially constructed – with nothing to do with God, at all. Being a liberal arts university, Calvin College have always been committed to go against these waves and prove that the Christian faith is not all that different from science and formal studies.
Dr. Roy then specified the three things a Christian university should have: a Christian leadership team, a Christian faculty, and training programs for faculty members.
Throughout its 25 years of service, UPH has significantly contributed to Indonesia through the 30.000+ alumni coming from countries all around the world. As a Christian university, UPH focuses on instilling valuable character traits in its students – those that are needed to serve the country in the best way possible. The integration of Christian values in class, along with leadership trainings and Student-Led Organizations, have proven to be valuable training grounds for the students – here, they are put in the position of leadership, where they will have to work with people from widely diverse backgrounds. UPH believes that through partnerships with universities around the world, UPH can become a Christian university with a global perspective – and one that leaves a strong impact among as many communities as possible.