Raising the Synergy of the World of Industry, UPH Establishes Cooperation with PT Bank Nationalnobu, Tbk
.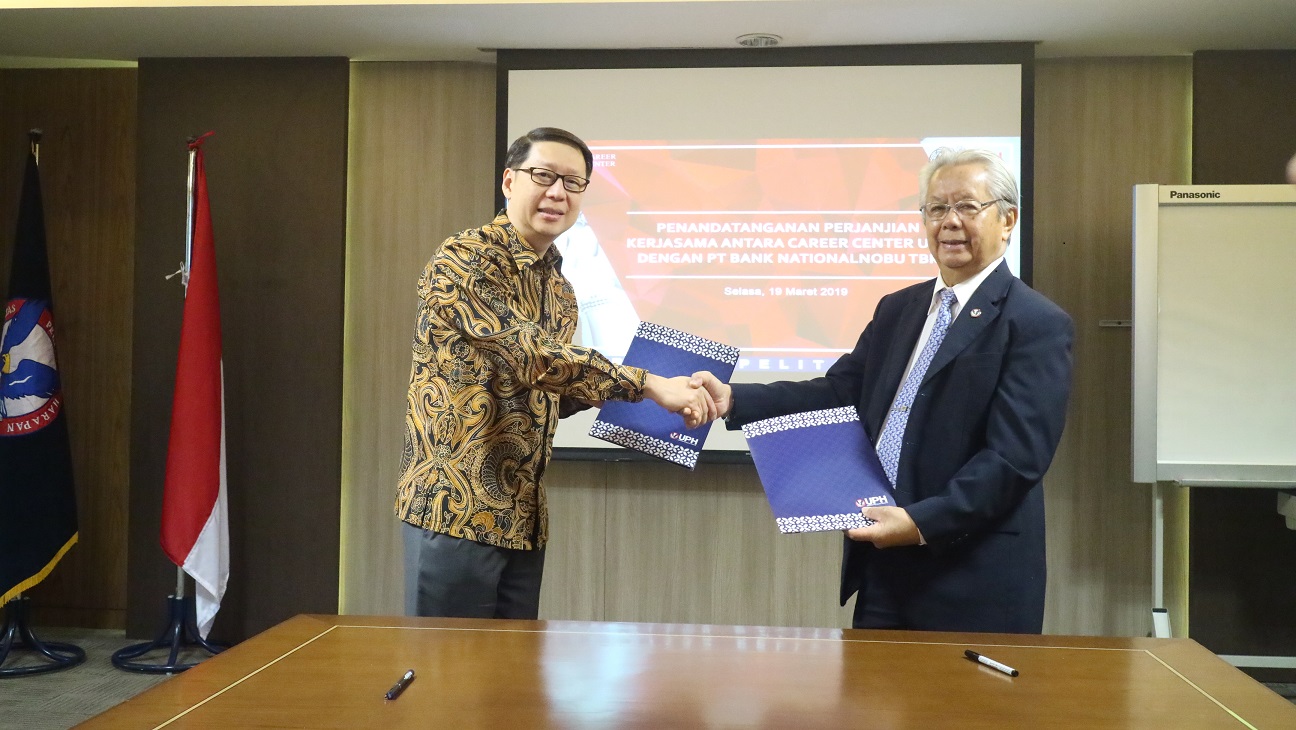 To equip current students and graduates with skills in the world of industry, UPH adds yet another partnership in the world of industry. This time UPH establishes cooperation with PT Bank Nationalnobu, Tbk. by signing the Memorandum of Understanding (MoU) on 19 March 2019 at UPH Lippo Village Campus. This cooperation will cover various areas, including internship, final-year research, job opportunities, on-campus recruitment, career training, organizing training, educating the staff members, etc..
It is expected that through these programs, the students will be equipped with insights in the world of banking and to understand the culture in interning or working in the bank industry. For the graduates of UPH, there will also be opportunities to work at PT Nationalnobu, Tbk.
The signing of the MoU was attended by UPH's Chancellor Dr. Jonathan L. Parapak, Compliance, Risk Management & Human Resources Director of Nobu Bank, Januar Angkawidjaja, and the Human Resources Group Head, Chandra Kusdianto. Among other attendees were Fransisca Rita Gosal, the Vice President Director; Michael Tatangsurja, the Head of Commercial & Financial Institution Division; Felicia Sharon Hardjono, the Relationship Officer; Prof. Dr. Adrianus Mooy, M.Sc, President Commissioner of Nobu; Ir. Budhi T. Yuwono, M.M., M.Pd., Senior Assistant to UPH's Chancellor; and Nursari Dwi Lugito, Director of the Alumni and Corporate Relations of UPH.
Fransisca Rita Gosal, the Vice Director of the Main Nationalnobu Bank, stated that through the commitment between banking industries and educational institutes, it is expected that there will be benefits reaped for both sides.
"UPH is an educational institute that prioritizes professionalism and is one of the best in producing top alumni. With this cooperation between Nobu Bank and UPH, it is expected that alumni can work in Nobu Bank corporations. This can be in the form of internships, final project research, and others. For us, this will be an opportunity for our teller and customer service staffs to upgrade and receive their bachelor's degree through UPH's online learning program. We believe that through online learning we will be able to improve the education quality at Nobu Bank," Gosal commented.
Chandra Kusdianto then explained that this cooperation is an opportunity for Nobu to spread its network in educational institutions. In her opinion, this cooperation will provide a place for UPH students in internships, job offers, or even in a management trainee program for graduates.
In line with that, the Chancellor welcomes the cooperation between UPH and PT Nationalnobu, Tbk., saying, "First, KOMINFO and RISTEKDIKTI said, a bachelor, master or Ph.D. degree is no longer needed. The only certification is needed. This means that this established cooperation will result in legal certification in the banking sector. Our hope is for the students and graduates to receive working certification after working in Nobu Bank. We believe that this will be beneficial for them for their future."