UPH Student Athletes Support Womens' National Basketball Team in Asian Games 2018
.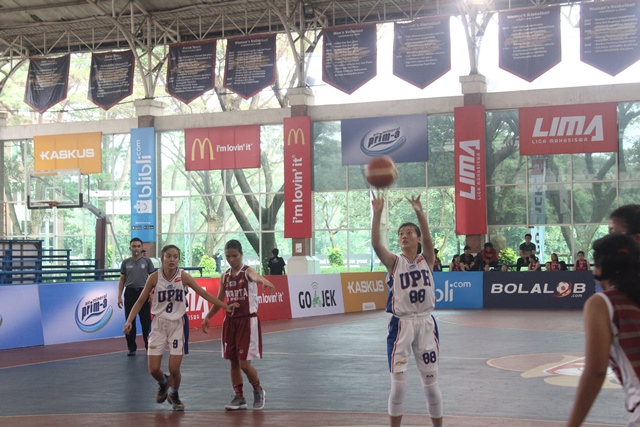 Three members of the womens' 5on5 national basketball team and two members of the 3×3 team competing in Asian Games XVII Jakarta-Palembang are student-athletes trained under Universitas Pelita Harapan (UPH) Sport Department. The three members of the 5on5 national team are Priscilla Annabel Karen – UPH Communication Science 2015, Vonny Hantoro – STPPH Hospitality Management 2014, and Ivonne Sinatra – UPH Accounting 2010. The student athletes in the 3×3 team are Christie Apriyani – UPH Communication Science 2014 and Regita Pramesthi – Psychology 2015.
Going through the selection process for the team is certainly not smooth sailing. These five students bring a particular pride for UPH, especially for UPH's Eagles Basketball team. The three active students accepted are granted UPH's sports scholarship. In UPH, they are prepared and trained to their limits both in and out of court through UPH's student-athlete program.
Fajar Kusumasari, the Coach of UPH Eagles Womens' Basketball Team, testified that UPH student athletes are prepared for national and international competitions while still putting their studies first, which is in accordance with the aim of the program. Priscilla and Regita are active members of the UPH Eagles team and have recently been involved in large-scale tournaments such as LIMA (Liga Mahasiswa) and POMNAS (Pekan Olahraga Mahasiswa Nasional). Vonny and Christie graduated last June, and Ivone is currently working in one of the leading banks in Bali. All of them still work as professional basketball athletes.
For Priscilla, getting to be part of a prestigious group such as the national team is a big achievement. She believes that UPH's student athlete program contributes a lot to her success.
"UPH contributed to my athletic career through granting a full scholarship and insurance should I experience injuries during my time in UPH. I think that UPH's student athlete program is superb because it teaches us to manage time for both our studies and practice. We are trained to still perform well and focus in class albeit a tiring morning practice. This means student athletes can not only excel in sports, but also in class," admits Priscilla, who is looking to work in the broadcast industry while still being active in basketball.
Regita also testified how UPH's student athlete program has helped her.
"UPH, I think, has the best student athlete program in Indonesia. There are not a lot of other universities – or maybe there are none other – that not only grants tuition aid for their student athletes, but also accommodation and meals three times a day. UPH trained us to be disciplined individuals, especially in court."
UPH's student athlete program offers students who are talented in sports to train maximally not only in their respective sports fields, but also in academics, character / mental, and spiritual life. This is what sets UPH's student athlete program apart from those of other campuses.
Fajar added that the student athlete program, managed by UPH Sport Department, instills the values of Athletic Perfection (athletic perfection in every aspect of daily life), Process Oriented, and Eternal Perspective (having a perspective of doing all things for God's glory and His kingdom).
The quality of UPH's student athlete program is undeniable. In addition to Priscilla, Regita, Vonny, Christie, and Ivonne, there are some other UPH student athletes taking part in the national basketball team, namely Rivaldo and Eric Gosal in the men's 3×3 nationals. Other alumni of UPH Eagles Men's Basketball Team – Jerry Rianti, Laurentius Steven, Christian Gunawan, Juan Laurent, and Cassiopeia Manuputty – currently actively participate as main players in professional clubs such as the Indonesian Basketball League (IBL).
UPH takes pride in its student athlete program – the program has consistently put students in the front line among universities in Indonesia, and is faithfully run according to the vision and mission of UPH – true knowledge, faith, and Godly character. These values are implemented in a holistic education that ensures the balance between academics as well as physical and mental health. The balance between academics and sports is the focus of this program. (rh)