UPH Inaugurated Dr. Hinca IP Pandjaitan during the 33th Graduation Ceremony
.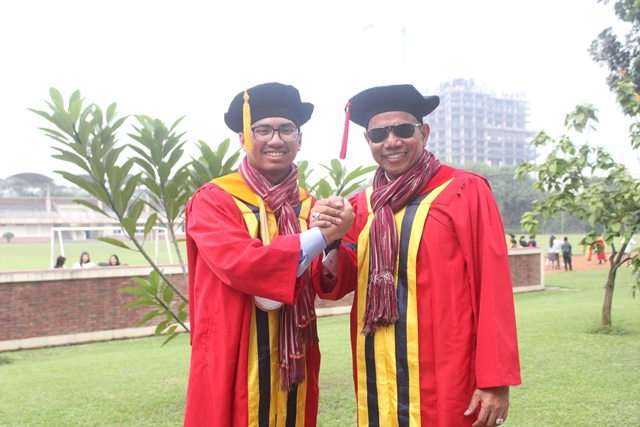 Among the 2289 graduates who were about to be inaugurate in the 33th UPH Graduation Ceremony, which was held on June 9, 2018, there was Indonesia's political figure and soccer activist, Dr. Hinca Pandjaitan XIII, who graduated as Doctor of Law from UPH. Interestingly, in his graduation, he also graduated alongside his son, Qanszelir Gabriel Bataranotti Pandjaitan XIV, S. Sos., who graduated as a bachelor of International Relation UPH.
Although Dr. Hinca himself has already gotten his doctoral degree since 2011, after he passed his doctoral trial with a 3,97 GPA, he willingly postponed his graduation to be inaugurated alongside with his son, Qanszelir, which he thinks is a way for him to proof his love to his son.
As an UPH graduate, Dr. Hinca admitted that he is very proud and he also praised the excellence of UPH's education system that are able to facilitate their students' specialties in interests.
"I chose the Law Doctoral program in UPH because it can accommodate my interest in sport, and at the time, law in sport or what we now call as Lex Sportiva (the implementation of sports law between nation), was still not available in any university's doctoral program. Long story short, I chose UPH because I see that UPH has placed the sport foundation as an essential thing. It is expected that UPH has lots of sport facilities such as a football field, swimming pool, gym, and many other sport facilities. Therefore, I think that UPH as a modern and visionary campus," said Dr. Hinca.
Dr. Hinca, who is also the Indonesian Director for Lex Sportiva Instituta, Jakarta, explained the intersection between law and sport.
"As I pursue sports, I don't learn the techniques of it, like how to kick a ball. I learn its philosophy where the principal of laws such as respect, justice, and fairness are implied as sports principle. In the Law Doctoral program of UPH, I pursued State Administration, where state administration is a concept that move and build a country. The banking sector is not the only sector that can produce money fast, the sport sector can do so too," Dr. Hinca explained.
Moreover, Dr. Hinca also explained that his decision to choose UPH is because it is able to support his thoughts and ideas, especially in developing the sports law. With such a large networking in this place, Dr. Hinca feels that he can expand his knowledge even more, and he also feels that the philosophy of 'light' in UPH's name can be a motivation for him.
"The philosophy of light and how this institution emphasized the Biblical truth, ensures me that UPH does not only teaches its students to seek for knowledge, but also to seek for through the Bible. UPH has really become a 'light' that radiates hope," Dr. Hinca explained.
For Dr. Hinca, in undergoing his calling as a politician, he needs a strong foundation. This becomes the reason that made him even more sure to expand his knowledge by pursuing his studies in UPH; which is to be able to correctly apply his knowledge and be impactful when he has to deal with the real political world.
Just like his father, Qanszelir graduated from International Relation of UPH with a 3,77 GPA, and he thinks that an it is not enough for an educated person to graduate, but someone who has pursue education has to have an impact.
"For me, a person who pursues education should not just graduate with a good score. Everyone who pursue education should have the spirit of relations to build good relationship with other people, and they will have to be able to apply the knowledge they have gotten so it will be useful for everybody," said Qanszelir.
Qanszelir also said that he has wanted to pursue his studies in UPH since he visited the campus during his father's Doctoral trial in 2011. (mt)