UPH Held 2018 Headmaster Gathering
.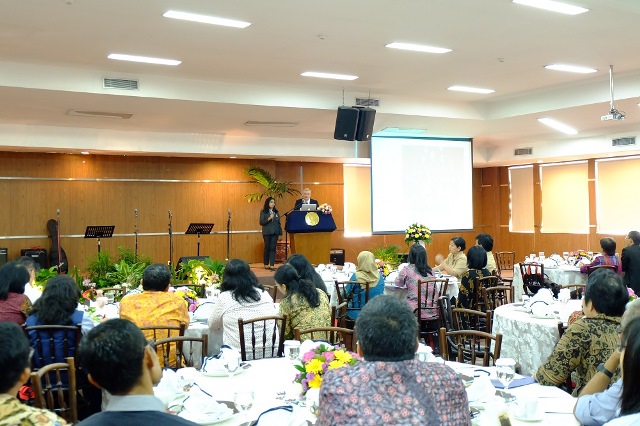 Once again, UPH held a Headmaster Gathering on May 30, 2018 in UPH Lippo Village Campus. This annual event was held to keep the good relationship between UPH and its educational institution partners, enrich and educate educators, and at the same time to socialize a number of UPH programs for Senior High School around Jabodetabek (Jakarta, Bogor, Depok, Tangerang, and Bekasi). Approximately 68 school leaders from 48 Senior High School was present at the event.
The school leaders are exposed to numerous aspects of the holistic education concept that has been used in UPH through a seminar with the theme: 'Developing a School Culture that Fosters Academic Achievement' which was brought by Philip Nash, the Headmaster of Sekolah Pelita Harapan. This event was also completed with a traditional dance performance from a Student Activity Unit (UKM) and the Co-Op program socialization for UPH students that enables students to do internship and college at the same time, in order to prepare UPH graduates to be competitive individuals in the professional work after they graduated. To close the event, The Marketing Department of UPH did not forget to present the Eco Cultural Enrichment Program (ECEP) for partnering schools. This program gives educators the opportunity to enjoy the beauty of Indonesia's famous natural tourist attractions, and thus enabling them to give their students evaluation and information about the beauty of Indonesia's nature; this program is designed to indirectly promotes Indonesia's tourism. Hopefully, through this collaboration program, schools that partner up with UPH are able to develop even more.
The teachers showed great enthusiasm as they participated in this event and they also got lots of benefits. Following are testimonies from a number of participants:
Drs. Lo Sing Kim – Headmaster of SMA Kristen Penabur said that
"This event, which was held by UPH, is a really good one because the contents are very interesting and are very useful for us, aside from that, the collaboration between UPH and our school has been going really well and UPH has great popularity in our school."
A similar point was also made by Dra. B. Ridwanita H., M.Pd – Headmaster of Santo Yakobus School, Kelapa Gading, "I think, this year's event is wonderful, and so far, we have 10-15 students from our school who want to continue their studies in UPH. This is a sign that the collaboration between UPH and our school is going really well," said she.