The Rector and Founder's Message to TC and ITC graduates: "Sent to Bear Bountiful Fruits"
.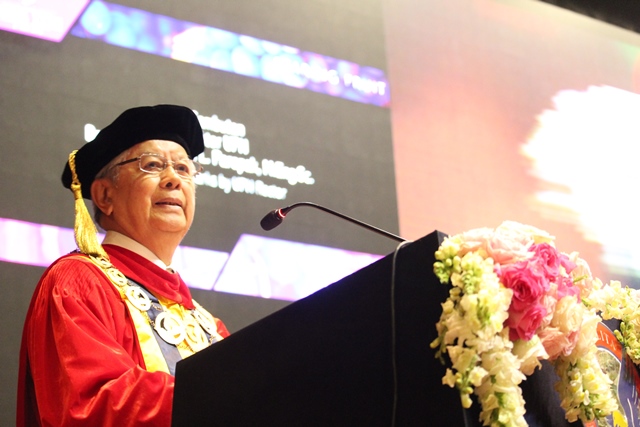 A number of 306 graduates of Teachers College (TC) and International Teachers College (ITC) gathered for their Graduation Ceremony, the 33rd UPH Graduation Ceremony which was held on Thursday, May 31, 2018 in the 6th floor of Building C, Grand Chapel, UPH.
The 2017-2018 Academic Year in UPH took 'Bearing Fruit' as its theme; this means that as follower and disciples of Christ, we are hoped to bear fruits, bountiful fruits. The theme was explained by the Rector of UPH, Dr. (Hon) Jonathan L. Parapak, M. Eng. Sc., in his message as he inaugurated the graduates. "I was very impressed on how TC alumni have become bearer of the good news who are able to give quality education in various regions around Indonesia. It was like how God sent His disciples to spread the gospel. They have really become missionaries sent by God to spread His words," said the Rector.
He reminded the graduates to keep the vision and mission of UPH in their mind: true knowledge, faith in Christ and Godly character, so that they can bring change to the world around them.
"Don't be discouraged, keep holding on to God's words; that if He is within us and we are within Him, then we will bear bountiful fruits, and we also have to always remember that Jesus has promised to accompany us to the end of the time," said the Rector of UPH.
Aside from that, the founder of UPH, Dr. (HC) James Riady who also attend the ceremony also said that TC and ITC are an important part of UPH's mission, because these two programs are the spearhead of UPH's vision and mission to create a systemic and international quality education program for teachers.
"TC and ITC are not easy programs, the students here have to go through a high quality learning process, the requirements to enter these programs are also strict. However, the greatest sorrow and calamity would be to think that this graduation ceremony is the end of your journey. You have to really take in all the things you've learned for the last 3-4 years and apply it to your life. This is not the end!"
He said that the graduates have to preach the word of God in places they are assigned to.
"This the of your mission's mandate! A life full of repentance and transformation. This is not a choice but a command from our God for all of us to lead a loyal and obedient life. What would you write and carve in the hearts of your students? Back then, the disciples had received a mandate from Jesus Christ and it was then passed on to the other the other apostles. Now it is your time as Christ's disciples whom He had given His mandate to continue the mandate to your students later on."
Aside from messages from the rector and founder, graduates were also strengthened through a message from Dr. Michael Patterson who represented Corban University as the partner of ITC UPH. In his message, he shared an important mission of Corban University that has to be understood by ITC graduates, it is the 3C; (C1) Character – a person with character has good moral quality, they are committed and they lead an effective life based on the 9 spiritual fruits. (C2) Competence – a person with competence has the ability to function effectively and efficiently. (C3) Christ – the center of all the hard work we do in our life.
Dr. Michael's message was ended with him sending the graduates to go and make good impacts in lives of the people they serve through their character and competence in Christ